May 5, 2017
What Could a March Do for the Climate Movement?
Revolution is art. Revolution is community. Revolution is empowerment.
Before the People's Climate March this past Saturday, I knew I was going to march. I also knew I was skeptical. I wasn't sure what a march could do for the climate movement: for raising awareness, it seemed like a march wasn't really the best method at this point. For convincing people and changing minds, it definitely wasn't. For climate-friendly policy changes, it wasn't either. For Trump-shaming, maybe. But still.
Regardless, I was in Washington D.C. with some of the iMatter team – some of my favorite people in the world – so my excitement and energy rose as I got ready for the long day ahead and made my way over to the Guardians of the Future bloc of the march.
As it turned out, excitement and energy were sort of themes throughout the day. The pre-march congregation was full of art, witty signs, paper mache Trump-heads lying in the middle of the road, and lots of passionate human beings.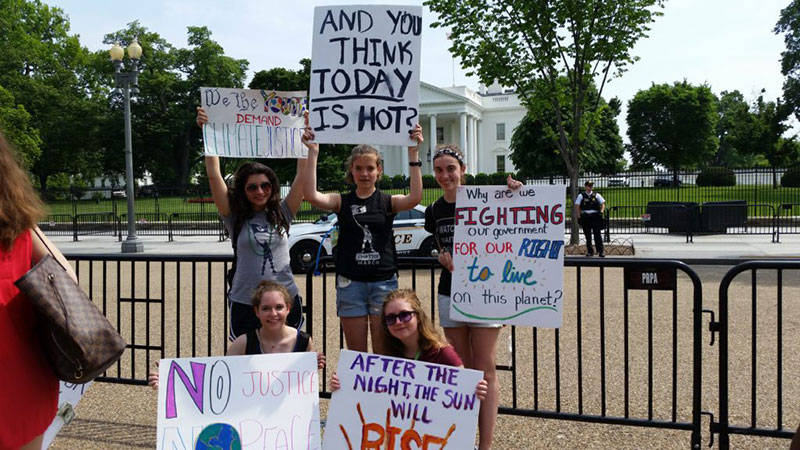 The Guardians of the Future bloc was the youth portion, so that was where the iMatter team was marching. The energy in the bloc was absolutely incredible. It was uplifting: megaphone-bearing leaders of the bloc were dancing and singing as they led the bloc down the street. One of the youth organizations had brought a parachute that they had painted. It was yellow, like the sun; when someone dropped a handle, we looked at each other, and then lunged to grab it. It felt like we were all holding the sun as we smiled at youth leaders across the parachute from us and coordinated attempts to run under it. The cohesion between strangers was palpable and beautiful. I looked around me and saw emotion: youth just as angry as I am with the world, art, the chanting of thousands of voices in unison.
When I came away from the march sunburnt, lightheaded, and with more energy than I had started with, I realized that while a march might not be good for much else beyond Trump-shaming, it is so, so good for the activists involved.
Revolution is empowerment. Revolution is depth of emotion. Revolution is love. And so are marches.